We are close to bus and train stations, and the airport bus stops a short walk away from us. We are also within walking distance of many of Montreal's most vibrant neighborhoods. Berri Uqam Metro Station & Central Bus Station are just a 5-minute walk away. Beaudry Metro Station and Sherbrooke Metro Station are 10 minutes' walk away. Place Dupuis, Saint-Denis Street, St-Denis Theatre, and L'Olympia are all nearby.
· The M Montreal Hostel is definitely the place to stay if you want to fully enjoy Montreal. We are surrounded by the best neighborhoods like the Old Montreal (10 min walk), the Latin Quarter (5 min walk) or the Festival District (10 min walk).
Perfect location. Super friendly staff.
24 hour reception Chargers and organizers on each bed
Good location, great for travellers using the montreal central bus station. Very good facilities, best shower i ever had (even better than my home shower). Really beautiful place and great atmoaphere. can tell the owner invest good amount of money on this hostel.
great hotel, very good value for money backpackers .....
Convenient, helpful staff, cheap parking nearby, comfy beds and free wifi everywhere! Didn't get to try breakfast but free coffee and tea all day was nice
Great hostel with privacy thanks to the curtain and a beautiful bathroom in the room to share. Breakfast is good with fruits and eggs as a bonus. The free activities offered by the hostel are very good too. In short, a great value!
A very good hostel, a staff always available and super welcoming, very well equipped, modern and clean premises, bar, spa, corners to chill, a lot of activities etc ... Flat for the excursion to Mount Royal where our guide did not know how to go and lost us ... But no problem, I recommend 100% this hostel!
My sister and I spent 3 nights at M Montreal! A superb place! Very hospitable people, who give their all to what they do; a program of activities for the whole week ... The location is perfect, 1 minute from the main avenue and 15 minutes from Old Montreal. Regarding the establishment itself, it is top! Very big and especially complete! The rooms are spacious and clean, showers and Wc extra in the hallways. A super nice bar, a rooftop with 2 Jacuzzi, work rooms, others to chiller. Really great, I plan to return to Montreal and I would sleep again at the M, without a doubt.
I recommend this hostel a bit expensive however
The hostel will welcome you very warmly, the common areas are very good and the private room is really great! Very attentive to cleanliness
Pied-A-Terre is located near the subway & Metro, local distilleries, Park Mont-Royal & Park La Fontaine, the gay village, downtown as well as several renowned restaurants such as L'Avenue, la Banquise, St-Viateur Bagel & Barraca Rhumerie & Tapas. Just behind our building we have a grocery store that features an extended services hours open until midnight & a few blocks eastbound on Mont-Royal Avenue, is another large surface grocery store which is open 24 hours. Bars, cafes & restaurants.
Auberge Bishop is proud to offer an ideal location right in the heart of Montreal that makes it easy to get to the city's many activities. We're only minutes away from the city's best restaurants, Centre Bell, the fine arts museum and the contemporary arts museum. We're also walking distance from Montreal's great festivals: Francofolies, the jazz festival and more! Discover Montreal's effervescence: -Crescent Street 1-minute walk /100 metres -Le Quartier des spectacles 30-minute walk /1.5 km
Excellent Service. Met and exceeded my Expectations. Highly Recommended
Jonathan is a very welcoming host, very warm, he made my stay really fun. I will return to this hostel without hesitation, clean place, smiling staff, possibility to eat at the hostel. GREAT !
The common areas are warm, all the necessary equipment is provided, there is the possibility of storing these things and also the possibility of recycling. The rooms are clean and comfortable.
Comfortable bed, clean sheets, small pillow ..., rather varied lunch, locker associated with the bed, do NOT rent a padlock (purchase, or bring your own). Clean places. Secure entrance at night. Perfect for a short getaway, two minutes from the metro. Near restaurants, pubs, grocery stores, convenience stores ...
The architecture is amazing, the employees are a great team, the bathrooms are very clean ... I loved it
The area is very interesting, close to public transport, many proposals for restoration, near the city center, and Mount Royal. The welcome is warm, the picturesque place.
Old port and old Montreal. Close to Place des Arts.
An inn as we like it. A full breakfast and a very friendly atmosphere.
Superb facilities, welcoming staff, quiet and well located. Great that breakfast is included!
Very friendly hostel with very welcoming and pleasant staff.
The Saint Paul Inn is an address to keep preciously if you have to go for a few days in Montreal. The common areas are well organized and very clean, as are the dorms. The staff is very welcoming and accommodating on arrival and departure times.
Exceptional location. Room and clean bathrooms. Heartwarming welcome ! We had a great time.
Hostel
This hostel in Montreal city centre is just 2 minutes' walk from Lucien-L'Allier Metro Station. All rooms at Auberge HI Montreal are air-conditioned, have access to free WiFi and have an en suite bathroom.
Hostel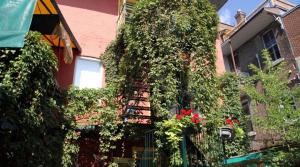 Le Gîte du Parc is a nice and charming hostel where you can meet people from all around the world. Our hostel is located in downtown Montreal. nnOur dynamic and joyful team will be glad to show you all Montreal's...
Hostel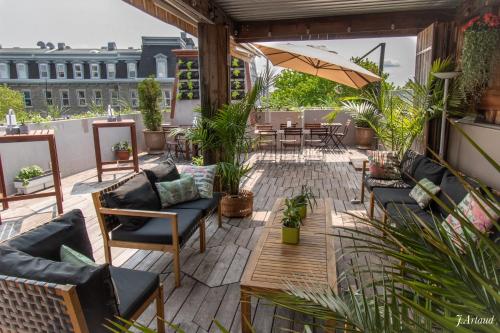 We have a 150 year old house. It has stone wall, wooden floor, high ceilings...all that gives a very warm atmsphere. We love welcoming people and we want them to fell at home. We have a nice rooftop terrace and...
Landlords and property managers
Register now your hostel on our brand new Extranet.