There is a tour desk available and the hotel staff will be happy to help in any way they can from organising tours and car hire to advising the best things to see and do in Nice and the surrounding areas. The hostel is only a short train ride away from Cannes, Antibes, and Monaco and there is a wide range of information available at reception about these places.
Ozz Nice is well-located in Nice, near the train station and a short walking distance to Nice Etoile Shopping Center and Marc Chagall National Museum. The hostel is only located 15 minute walk from the main beach and the famous "Promenade des Anglais".
Neglected
A very nice terrace to have breakfast or stay during the daytime. The location is very very good - so close to the central street and not far from the seaside. Breakfast is included into the price which is nice.
This hostel provided me with a few good nights of accommodation. There is a really nice rooftop patio, a decent kitchen, decent beds with free lockers and lots of space in the room, and it's very close to the train station. Only about 20 minutes walk to the beach and 10 minute walk to nightlife.
good location and good facilities
Excellent and very clean. The employees are very friendly.
We are just a few minutes walk from the Nice train station. Take the bus, in the direction of Cannes, and discover the charm of its port and its department stores. Or visit Monaco or the pretty villages of the hinterland of Nice. Currency exchange: 100m Mini-market / market: 100m Shopping center: 100m Restaurants / bars: 250m Beach: 1000m River / port / lake: 800m Nightlife: 800m Cultural center: 800m Main monuments: 800m Historic sites: 800m Museums / art galleries: 800m
Located in Nice city center, close to old town, only 500m from the beach and 200m from "Place Masséna"
Nice staff, super clean. Nice breakfast.
Smal but very nice outside the old Nice disctrict.
Located in Nice, Hotel Antares is a 15-minute walk from the beach and 170 m from "Nice Ville Train Station". This property is 8 km from Nice Airport and 800 m from Notre-Dame de Nice Basilica. The A8 motorway is a 10-minute drive away. This is our guests' favourite part of Nice, according to independent reviews.
The Riviera is an outdoor activity hub. For night time action join one of our Parties at the bar. We have 24hr security and there's no curfew or lockout.
Nice stay!
OK, friendly, only to sleep
The location is great for travel by train. Easily accessible from metro and buses as well. The rooms are separated and have keys in all areas helping security. Kitchen and fridge space helps save some money for food.
To be recommended
Pleasant stay in Nice, hostel very well located in the city and friendly staff
Super shower room with wc is great but horrible bedspreads bedding disgusting. Take example on the other inns by giving white sheets at each passage.
If you are unlucky enough to be in room 001, you have the right to "sleep" between the kitchen and the bar (concerts until 2am). I am usually tolerant of noise and I found this unacceptable. Sorry but we can not accommodate people in these conditions.
Bad smell, bad atmosphere
Very good reception and information on the city. In the dorm, very good atmosphere with Americans and a Japanese. Hostel very clean and well secured. It lacks lockers in the rooms anyway (which would be cool: 1 bed = 1 locker).
we have lot of clubs and pubs in the old town.
Secured hostel, very well located and good atmosphere assured.
Good hostel because of the location. Staff friendly
Well located Hostel in Nice. Price is Okay.
Hostel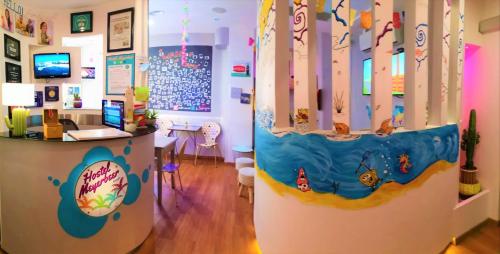 The Meyerbeer Hostel is located only 50 metres from the beach and the famous Promenade des Anglais. The main square as well as the main train station are reachable with a 10-minute walk.
Landlords and property managers
Register now your hostel on our brand new Extranet.