We're a short walk from Southern Cross Train Station, meaning we're super close to Laneway Graffiti Street Art Cafes, Restaurants & Bars, Eureka Skydeck, 88 Federation Square and Melbourne Cricket Ground - so much to see!
Nomads St Kilda Beach is located in the heart of St Kilda with just few minutes walk from the beach, restaurants and shops. Tram stop: 96, 16 & 3/3a just at our door step, making it easier for everyone to get to and from the CBD (southern cross).
Good location and very clean. Shower facilities are brilliant!
close to docklands
Security and small dorms
It was clean, comfortable, easy access to tram lines and a short walk to Southbank. Staff were friendly and the showers were absolutely wonderful.
I really like the new renovations done by Melbourne Central hostel. The downstairs entry has improved a lot. The hostel also has a great location of course. You save on a taxi fare from the airport by being across from the skybus and on tram fares by being within the free tram zone.
the people and the atmosphere make it amazing. Kitchen could do with a revamp but other than that... the staff more than make up for it. Michael, Hannah, Riccardo and Dave were all more than helpful, literally out of their way to welcome and make you feel loved.
The immediate feeling of being relaxed when I arrived. As a solo traveller it can be uneasy arriving alone but the friendly staff welcomed me. Especially Meg on reception. The sense of community is really strong and everyone is super friendly. There are renovations taking place which is ace as the bathroom has underfloor heating.
When it comes to the location of Melbourne Backpackers accommodation it's no secret ours is the best! Make United Backpackers your home and you will be staying directly opposite the iconic Flinders Street Station, 50m from famous landmark Federation Square and just a one minute walk to the beautiful Yarra River. You couldn't be more central! We also just happen to be located on the funkiest and most vibrant laneway in Melbourne, Degraves Street!
Located in the dynamic inner suburb of Brunswick, ideal location with great transport options (trams/trains/buses) just minutes away. Nearby Sydney Road has supermarkets, great shopping, bars & cafes to discover.
I would add mirrors in the hall and more bathrooms, that's all, hostel is good)) thank you!!
The location is top notch and gets u in the thick of Melbourne city with so much to do in the area! It was clean and the staff were very friendly and helpful! Only complaint would be no aircon, but I was there on the hottest days so I imagine anywhere would be sweaty and sticky with or without aircon.
We host in-house events such as trivia nights, bingo, BBQs, live music, Mario Kart Tournaments & mulled winemaking, plus external events like local brewery tours, club nights, sightseeing & day trips. Richmond is an awesome suburb with great transport options (trams/trains/buses) just minutes away. Nearby Bridge Road has supermarkets, great shopping, bars, shops, & cafes to discover. A 7-minute walk from MCG Melbourne & 1.3 km from Rod Laver Arena. Melbourne Airport is 20 km away.
Located in a heritage building from the turn of the century, All Nations Backpackers sits in the heart of Melbourne minutes' walk from Southern Cross Station and with easy access to all the sights of the city.
Good location, friendly staff!
People, very helpful staff, free pasta and rice!!
Very cheap, centrally located and staff very friendly and helpful
Good fun.
free Wifi in the common areas, free pasta and rice
Our totally refurbished building is located at the top end of the CBD, right in front of the Queen Victoria Market. With many popular Melbourne attractions, beautiful gardens, fantastic shopping and dining, and a wealth of public transport options close by, Melbourne at its best is at your doorstep.
It had its own tours desk and daily offers and discounts
Nomads Melbourne is in a decent location, close to trams and train lines that get get you around. The staff are super helpful too, and give great advice on how to get around and things to do. The rooms and linen are really clean, and having someone come around each day to clean up a little was nice.
WE ERE A FAMILY OF 6 THE BUNK BED ACCOMADATION WITH OUR OUN TOILET AND SHOWER WAS SUITABLE FOR Us AND CENTRAL TO GETTING AROUND IN Melbourne Met people from Europe The staff were very Helpful
Great value for money.
Great location, clean and tidy
Hostel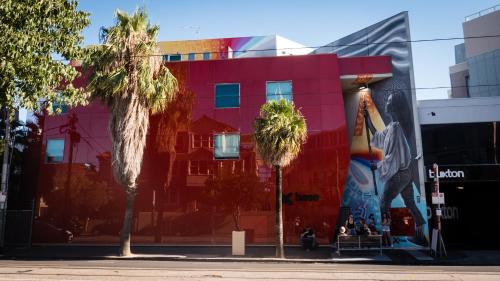 Base St Kilda is a modern hostel located 1 minutes' walk from the cafe and bars of Acland Street and 5 minutes' walk from the beach. All rooms have en suite bathrooms, lockers and heating/air conditioning. Free linen is provided.
Hostel owners and managers
Register now your hostel on our brand new Extranet.