We're in the colorful and atmospheric Granville Entertainment District, near the Skytrain and less than a 15-minute stroll from BC Place Stadium, Granville Island and Gastown. You'll find clubs, shops and restaurants nearby. Pick up a free city map from reception to help you get to Vancouver icons like Stanley Park or ask about our free city tours.
Our hostel is located one block from the famous Gastown Steam Clock.
One of the best hostel in what I've been all very friendly and very clean
A lot of activities are offered daily and well supervised.
The dorm is very clean and well-maintained, the staff is very friendly and the check-in check-out is very smooth. They do not have a lift but that isn't much of a problem. The dorm is located at a prime street and everything one might need is at walking distance. You may want to consult the receptionist before going out discovering Vancouver as they have discount coupons with them for a few popular places.
We had a nice time her, the staff was great and the location is very good because it is near to some good attractions in the city. Vancouver is great and Samesun a nice place to enjoy it.
It is in the center, at the heart of VAncouver, big brekfast and lots of common space, good Internet
9
Very good
Common areas are not very well appointed and quite narrow. Same for the common bathroom which is really too small and poorly arranged, especially for the number of people that the hostel can accommodate. In the rooms we hear the music of the bar parties on the ground floor as if we were there, we sometimes even feel the beds vibrate. There are often a lot of drunk people who make noise at night. Basically it's far from relaxing and comfortable places, even for a hostel.
Auberge de jeunesse vraiment pas cher, mais le quartier n'est pas très sympa, on croise souvent des junkies. Toilettes et douches sales, et une seule toilette était fonctionnelle. Il y a un bar très bruyant juste en bas, impossible de dormir avant 2 heures... pas cher mais pas très confort.
Wifi in the dorm rooms is excellent. The staff are very helpful and made sure my lost luggage from my flight arrived safe and sound at reception. Great central location, a short walk from the train station.
Just steps away from the Skytrain Station, you can enjoy a fast commute to Downtown Vancouver or Richmond. Queen Elizabeth Park is a 5-minute drive. Marine Gateway is a 3-minute walk. Oakridge Center Shopping Mall is a 15-minute walk.
This property is located in the heart of Downtown Vancouver, right by the Granville Bridge, and is in between the Yaletown and Davie Village neighbourhoods. You are walking distance from Sunset Beach, English Bay, and Granville Island, as well as the shops and restaurants in the downtown core. Popular spots include Pacific Centre mall, Robson Square, and the Vancouver Art Gallery.
In your en-suite unit, you will enjoy panoramic views of the surrounding area from your private balcony. Each unit is equipped with a mini kitchenette complete with fridge, stove top, microwave and sink, as well as the necessary kitchen utensils. In addition, you have a desk and chair for study and cable TV to catch up on all the local news and TV shows in Canada. Your unit has a comfortable futon, with linens provided, that can fold up into a cozy couch, in addition to a full sized bathroom.
We're up the street of the lookout tower in Downtown Vancouver and we're also close by the steamwork clock.
The place is clean and affordable, felt safe and cozy. The room is ok in size. Its bright and comfortable. Overall, OK.
This hostel is cheap so do not expect too much from it. This is the best price and this is a reason why. Not very clean at all. Good location.
Close to Skytrain, both Canada and Expo lines, Seabus, and Westcoast Express. Pacific Center Mall is less than a 5 minute walk away.
Do not recommend this hostel. Well placed, only positive
this hostel is located in the heart of the city, direct access to the train connecting Granville and C airport is great! prefer the 2nd floor if you want tranquility
The location and staff are on point. Rooms were average, but real cheap! Could have been better, but again, it's cheap.
Very close to a subway station. Clean rooms. There's a bar below, very cool and lively, good music, so you know what to expect next. Lol. All in all, it was ok.
Hostel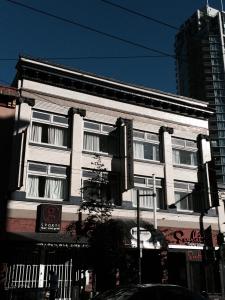 Located in Vancouver's entertainment district, this hotel offers a restaurant and a bar. Free WiFi is provided in all rooms. Yaletown-Roundhouse SkyTrain station is 7 minutes' walk away.
Landlords and property managers
Register now your hostel on our brand new Extranet.